Ruwais Housing Complex Expansion-Phase III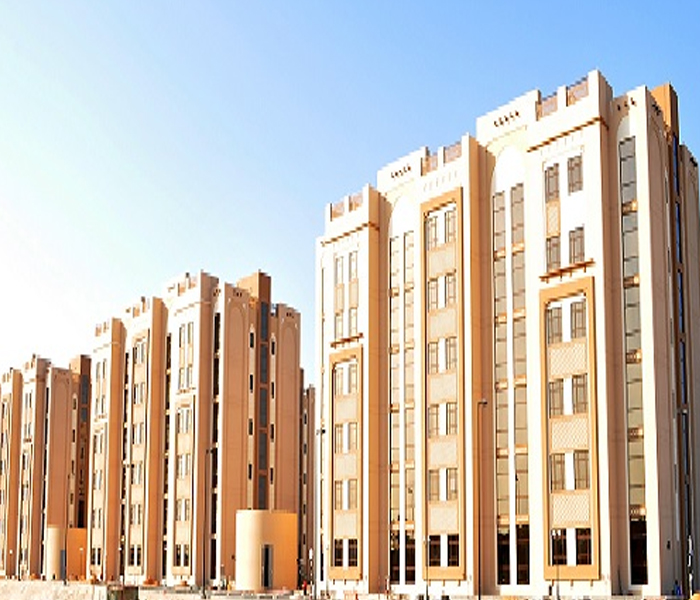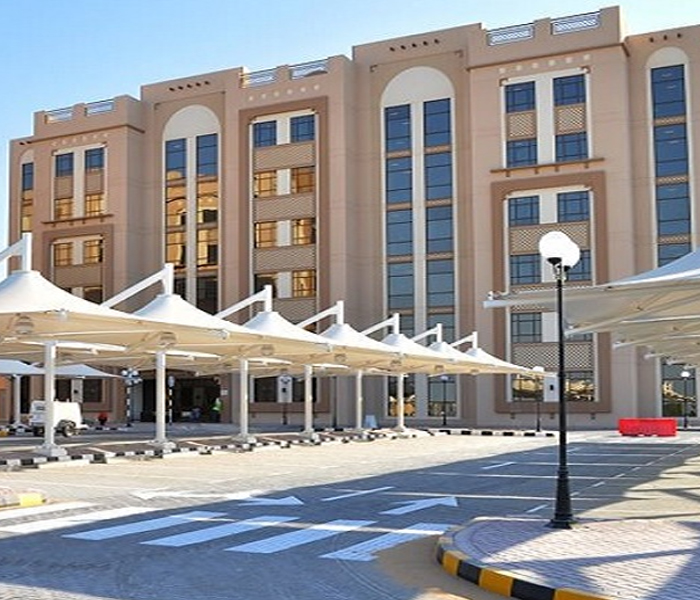 The project consists of 5 buildings (ground + five) with 71 flats for each building. The infrastructure includes water supply , fire fighting , drainage , three electrical substations and one fire fighting pump room.
AIR-CONDITIONING AND VENTILATION SYSTEM
• 450 Nos. fan coil units.
• 10 Nos. of Air Cooled chillers (158 TR).
• 15 Nos. of chilled water pumps (379 GPM).
• 10 Nos. of Fresh Air Handling Units (8875CFM).
• 60 Nos. of Toilet extract fans (300 CFM).
• 50 Nos. of kitchen extract fans (780CFM).
• 10 Nos. of staircase fans.
• 3 Nos. of substations fan.
• 10 Nos. of Heat recovery pumps.
• 5 Nos. of Pressurization units.
• 5 Nos. of Chemical dosing pumps.
PLUMBING WORK
• HDPE pipes for underground and above ceiling for Drainage systems.
• PPR and PEX pipes for hot and cold water.
• High quality sanitary fixtures with accessories.
• 360 Nos. of water heaters.
FIRE-FIGHTING SYSTEM
• 1 set of pumps (Electrical).
• 288 Nos. of Fire Hose Cabinets.
• 5 Nos. of Breaching Inlets.
• 14 Nos. of fire hydrant.
• Fire Extinguishers.
ELECTRICAL WORK
• Power system with a total 8.113 MW connected load.
• 3Nos. of 2500KVA dry type transformers with outgoing bus duct 4000A
• 530 Nos. MDB, ACB, MCC, SMDB & final distribution boards.
• Earthing and lighting protection systems, that achieves ADWEA Requirements.
• Fire alarm system achieves civil defense requirements, with interconnected with the existing RHD network.
• SMATV system utilizing the existing RHD head end station and 4 dishes in each building with all required accessories.
• Telephone and data communication system as per Etisalat requirements.
INFRASTRUCTURE
Electrical :
• 3Cx300 mm2 medium voltage cable from existing RHD station to package 13 substation2 in loop circuit with substation 3 and substation 1 which connected to the other feeder in RHD existing substation.
• Each building has been feed from nearest substation through 5run of 4Cx300mm2 LV cable with their single core earth cable.
• 58 Nos. of 8Mter street pole light.
• 91 Nos. of 3Meter pole light.
• 8 Nos. of JRC-12 + 8 Nos. of JRC -4 Etisalat manholes with their D54 ducts as per Etisalat requirements.
• 11 Nos. of 60x60 manholes for LC manholes with their related ducts.
Fire Fighting :
• Fire fighting pipes is Ductile Iron as per BS 4772, EN 545.
• 5 Nos. of Valve chambers.
• 14 Nos. of fire hydrant.
Water supply:
• Water Supply pipes are UPVC pressure pipes to BS 3505.
• 7 Nos. of valve chamber.
Drainage:
• Drainage pipes are UPVC for infrastructural to BS 3505 Class –E.
• 74 Nos. of drainage manholes.
• 60 Nos. of Gully traps.