Sharjah Tower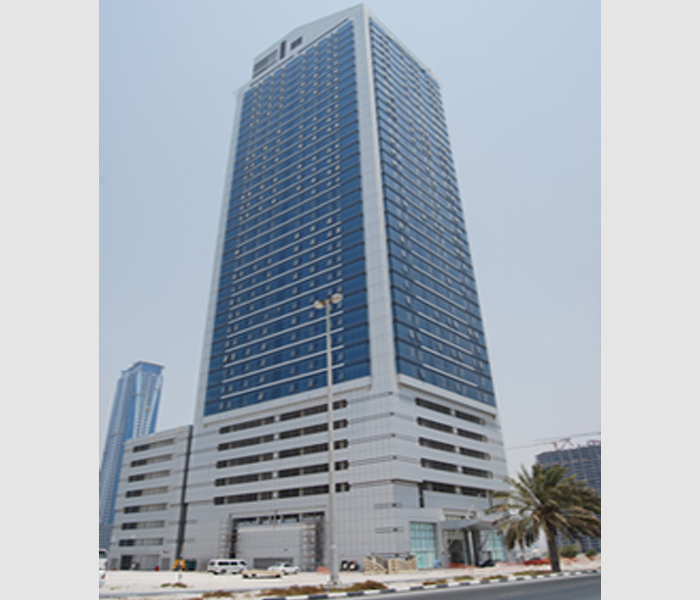 Client:

HH Sheikh Hamdan Al Nahyan
Located in Sharjah's Al Khan area overlooking the canal, the tower consists of 6 parking floors and 30 residential floors.
Scope of Work: Supply, Installation, Testing, Commissioning, and Maintenance.
AIR-CONDITIONING AND VENTILATION SYSTEM
• 3 Nos. Centrifugal Chillers (1710 TR) total capacity.
• 3 Nos. Counter-flow type Cooling Towers.
• 12 Nos. Chilled Water Pumping System (Consisting of Primary, Secondary and Condensing Pumps)
• 4 Nos. FAHU and 821 Nos. FCU Units.
• 26 Nos. fans for smoke, exhaust and ventilation systems.
PLUMBING AND WATER SUPPLY
• Water Tanks, RCC UG of 395m3.
• Transfer and Booster Pumps Sets.
• Special Water filtration treatment system.
• High quality sanitary fixtures with accessories.
• Rain water system.
FIRE FIGHTING WORK
• Fire Fighting pump sets of 750gpm
• Fire hose reel cabinets.
• Fire Extinguishers.
• Wet and dry risers, and sprinklers for all floors.
ELECTRICAL WORK
• Power System with a total of 7 MW connected load.
• 4 Nos. Transformers, 4 Nos. MDB, 35 Nos. SMDB and 210 Nos. FDB
• IP68 Based Busbar system (cast resin type).
• BMS monitoring and controlling all major MEP and low current systems.
• ELV systems: SMATV, intercom, servant call systems, and other related systems.