Sulaymaniyah Rotana Hotel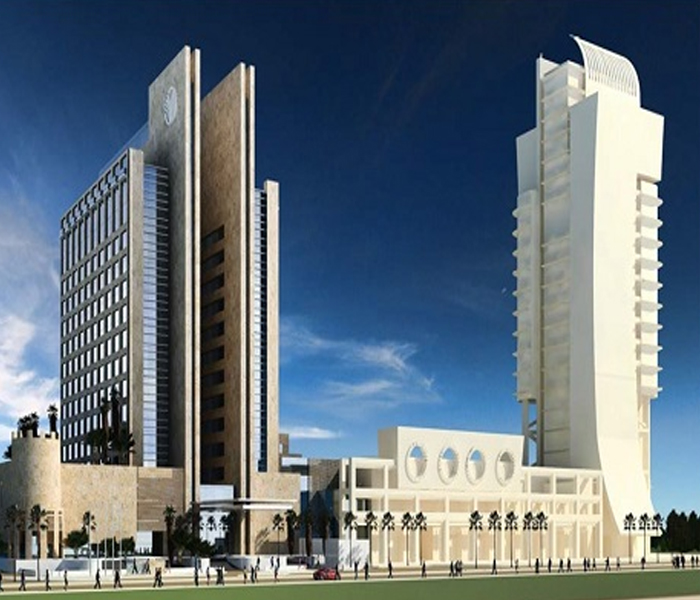 Sulaymaniyah Rotana Hotel project is a 5 stars hotel (4 basements+Mezzanine+Ground+Service+12floor+Roof) + Staff Accommodation (2basement+Ground+5floor+Roof) located in Sulaymaniyah City-North of Iraq, comprising of 240 Guest rooms, Luxury restaurants, Spa and Pools.
AIR-CONDITIONING AND VENTILATION SYSTEM
• 458 Nos. fan coil units.
• 2 Nos. heat exchangers.
• 2 Nos. close control units.
• 4 Nos. air modular VRV systems.
• 4 sets of primary and secondary pumps.
• 12 Nos. of FAHU's with recovery wheel.
• 24 Nos. of AHU's.
• 5 Nos. of Air Cooled Chillers.
• 3 Nos. of Hot Water Boilers.
• 2 Nos. of Steam Boilers.
PLUMBING WORK
• 4 Nos. Storage Tanks.
• UPVC and HDPE pipes for drainage systems.
• PPR and GI pipes for hot and cold water.
• Heat pumps system and 18 Nos. Calorifiers for heat water system.
• High quality sanitary fixtures with accessories.
• Booster, transfer and circulation pump sets.
FIRE-FIGHTING SYSTEM
• 1 set of pumps (Diesel, Electrical, and jockey)
• Fire sprinklers for all buildings.
• Breaching Inlets.
• Clean Agent System (FM-200)
ELECTRICAL WORK
• Power system with a total 7.5MW connected load.
• 400 Nos. main, sub-main & final distribution boards.
• 11KV/415V substation, 6 Nos. 1500 KVA Generator, Room management system, Data, TV system, CCTV, CO system, Public address system, Ups, Light control, lightning protection, fire alarm and evacuation system, central battery.
• Building Management System.
LPG SYSTEMS
• Supply and installation of central gas system.
• Main control panel and gas meter.
• 20 Nos. Gas cooker outlets for kitchens and external grills.
• Gas detection system including central panels interlocking with fire alarm and fire fighting systems.
• Control valves and gas detection systems.